Sheet Metal Fabrication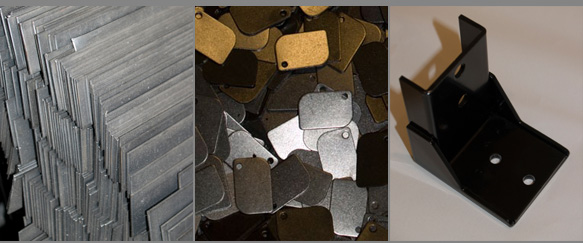 Our sheet metal fabrication abilities are in a constant state of advancement with the development of new technologies. We recently acquired a 3000-watt laser, which adds unlimited cutting abilities to metals. All sheet products, from cold rolled steel to stainless and aluminum, can be easily processed on our laser, eliminating the need for costly tooling.
Our CNC turret punch presses provide high speed punching by using our stock tooling or inexpensive "soft" tooling. Two new multiple axis hydraulic press brakes offer the advantage of multiple bend setups in the same machine. Our CAD/CAM programming system enables us to produce exact parts from your drawings or directly from your CAD files. Once a part is programmed for production on our CNC equipment, you can be guaranteed that future re-runs will be duplicates from the first run, every time!
Astoria fabricates all gauges of sheet metal, CR/HRPO to galvanized, stainless, aluminum, pre-finished, to specialty metals.
Laser Cutting
CNC Punching
CNC Hydraulic & Mechanical Press Brakes
OBI & Gap Punch Presses
Rolling & Special Forming
Sheet Metal Welding, Robotic Mig Welders, Spot/Mig/Tig
Post Fabrication Finishing